Since September 30, a barricade has been erected on Route 134 in New Brunswick, blocking access to an Irving compound where SWN Resources is keeping seismic testing equipment used for shale gas exploration in the area. The RCMP stationed itself with barriers on both sides of the barricade which is held mostly by Mi'kmaq Warriors with people from surrounding communities.
SWN Resources Canada obtained an injunction against the blockade on October 3 and the RCMP put the site on lockdown the same evening alleging a call on social media for people to come defend the barricade with arms.
As of writing the standoff is still ongoing.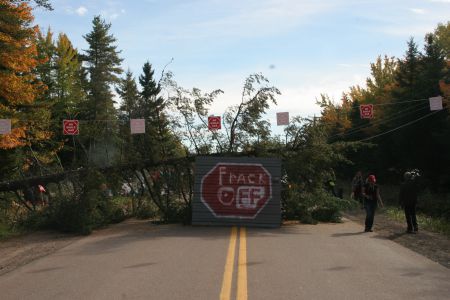 see also Halifax mediacoop
pic from Halifax mediacoop
related articles / articles relatifs / artículos relacionados: